Open For Dinner Tuesday – Saturday!

Bacon Blues & Brew Arts and Music Festival – July 28 & 29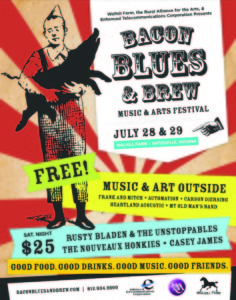 Click the flyer for more details…
The Restaurant's Nouveau American cuisine blends several
authentic American

flavors with modern, innovative twists



The Restaurant at Walhill Farm
Our Executive Chef enjoys combining Old World dishes used in American cuisine to create our own signature offerings

Our Nouveau American cuisine combines fresh ingredients with the creative use of spices and sauces

Our food is raised humanely with vitality and sustainability

We source everything possible from our own garden, or, whenever possible, from local farms and suppliers

We have a wonderful selection of great American wines, and the areas best micro brews

There is not a more interesting or inspiring restaurant atmosphere in the tri-state area
Walhill Farm has a total of 250 acres of farm land. Twenty seven (27) of those acres are made up of classic midwestern hardwood forest, Ten (10) acres are dedicated to our garden, with 190 acres being converted from commodity crop farm land to pasture. This land will support our sustainable, happy and healthy Black Angus Cattle, Berkshire pigs, chickens and other farm animals. Our guests deserve to know where their food comes from, and that it is delicious, safe and sustainable.
EVENTS
Walhill hosts a wide array of special events, corporate gatherings, fundraisers, weddings, and even our annual Bacon Blues and Brew Music and Arts Festival in August of each year. We have a beautiful, creative environment for whatever your gathering, from an intimate night out to a wedding with up to 650 guests. Our in-house catering will impress even the most demanding foodie. From private dinning rooms to our 12,000 square foot "The Barn", we have the perfect spot for your special event
This is a gem in a rural setting that is worth visiting over and over again. The menu is creative and the preparation and presentation are outstanding
Dinner was wonderful. Fabulous salad combinations and dinner plate presentation was beautiful. Dessert top notch. Feature locally grown ingredients. Drove an hour to meet dinner guests and it was worth the drive.
Finally! Great food in Southeast Indiana! We have only been searching for 14 years! Perfect spot for an increble meal, as well as warm and
 friendly company and service by the management and staff. We were thrilled with the acoustic guitar and mandolin duo. We will be back very soon!
Food is great from appetizers, soups, sandwiches, entrees, desserts. Atmosphere was amazing and full of history
I made reservations six months prior to our anniversary dinner. I asked for a table near the fireplace. We arrived 15 minutes early on this special night and were promptly seated directly in front of the fire. How could you ask for more? Food was delicious.
A unique dining oasis in an unlikely rural setting! The food is outstanding with a gourmet accent and appealing presentation. Excellent service and knowledgeable, friendly staff